Create your site now for 20 € / month
Showcase Website
Is a 'visit card' type website that reflects your image and presents your company, association or services. Showcase Website is a site with a limited number of pages, generally 5 to 6 pages presenting your activity as a whole: services, mission, team, contact information. Whether you are a lawyer, doctor or artist, a showcase site is the right solution to find your future clients.
Product Catalog Website
Is a site which allows to present in a detailed way part or all of the product catalog of your company or your business. It has no limit on the number of categories, subcategories or products and can contain thousands of product. The product catalog Website is positioned between the showcase site and the e-commerce site. It allows to promote the products or services without the function of online payment.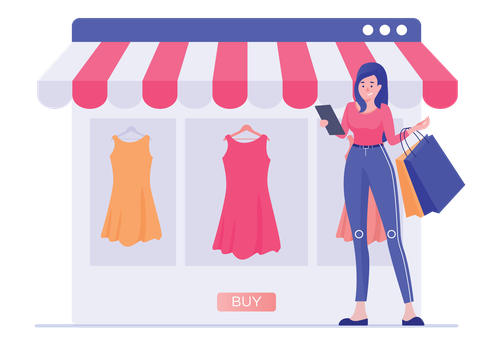 E-commerce Site
Is an online store where you can sell your products. E-commerce site is a merchant site with no product limit that allows you to reach a large clientele, 7 days a week and 24 hours a day. Physical products, digital products or services, the e-commerce site is the ideal somution to increase your income. And it can also be a complement for your physical store.
Dropshipping Site
Is an e-commerce website but without having to deal with storing inventory and shipping. Dropshipping is an order processing method that allows you to partner with one or more suppliers to display and sell their products in your e-commerce website. The dropshipping process can be summed up in 3 steps:


A customer buys a product on your e-commerce website.
You send the order information to your dropship supplier.
The supplier picks, packs, and ships the product directly to the customer.
Customized Website
Is a completely personalized site, its creation is done from scratch to adapt to your needs and your objectives. It is a unique website that reflects the true personality of its owner. A Customized Website can be a showcase site, catalog site or e-commerce site.
Website Redesign
If you already have a website, All Round Capital Group helps you renew and improve your website with a visual or / and structural redesign. Whatever your objective: switch to a more ergonomic version, add new functionalities, gain visibility or other, our web agency supports you to make your redesign project a success.
Online Business
Nowadays, you can turn your skill or passion into a business only with a computer, internet connection and with little or no investment. Thanks to the diversity of our team and its experience, we support project leaders in transforming their ideas into reality. We help you to put in order your skills and experiences as well as the necessary tools to carry out your project.